Screw Output • Durability Guarantee • Fit and Finish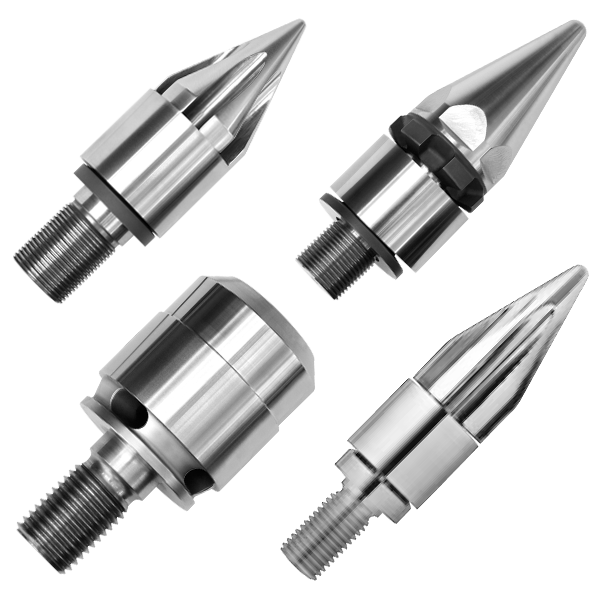 Molders Services Inc. (MSI) has been designing and manufacturing screw tips for over 30 years. Whether you have a difficult problem which requires a specialty design or are looking for a long lasting replacement tip available to ship same day, MSI can address your needs and will guarantee the results.
The term free flow has been applied to many different tip designs over the years. The term is frequently confused with 3 piece tips that have large flow paths milled through the nose, however the size and shape of these flow paths does not necessarily make them free flowing.
Frequently these tips with large flutes are very restrictive. This restriction causes a large pressure drop over the valve. This contributes to shear heat causing material degradation and increased wear.
"Free flow" is more properly defined as matching the flow channels (area) of the tip to the volume of material the screw can deliver. This would vary somewhat depending on the specific screw design. This definition is more precise and has a critical impact on both process ability and durability of a tip design.
A tip can be designed as free flow regardless of the number of components used in the design: 3 piece, 4 piece or ball check. It is also important when assessing the flow characteristics of a tip to evaluate surface finish, sharp corners and streamlined flow paths which can also contribute to material degradation but are more difficult to quantify.
The 4 piece design is the work horse of the industry and is the "go to" design for most applications although all 4 piece tips are not designed the same. MSI guarantees performance.
Free flow for most applications
Utilizes specific steels unique to the type of wear that each component requires. This results in better durability at a lower cost for many sizes
Ground surfaces to assure better sealing; Less contamination
Cleans out easily
Check ring travel can be adjusted for high melt flow materials
Typically requires less suck back than standard designs
Saves cost because you only replace the components that are worn
Cannot be designed as free flow for all sizes
Loses cost advantage in small sizes
The 3 piece free flow is a low cost alternative.
Can be designed as free flow in all sizes
Available in lower cost steels such as D2 or H13 for general purpose applications
Cleans out easily
Typically less wear resistant as super wear resistant steels used in a 4 piece front seat are too brittle for a 3 piece nose (retainer)
Higher cost in large sizes when manufactured out of pm steels
Ball Check or Poppet Valve
MSI has redesigned the ball check for maximum flow, quick color changes and reduced area for material to hang up which eliminates most of the problems you may have experienced in the past with ball checks.
Excellent shut off capability in high melt flow materials
Better shut off than sliding style tips
No decompression (suck back) required eliminating a source of splay
Potential for barrel damage resulting from the ball check turning with the screw and contacting the barrel
Frequently cannot be design as 100% free flow
Can be more difficult to purge clean(this is greatly improved with new design)